Registration for this event has passed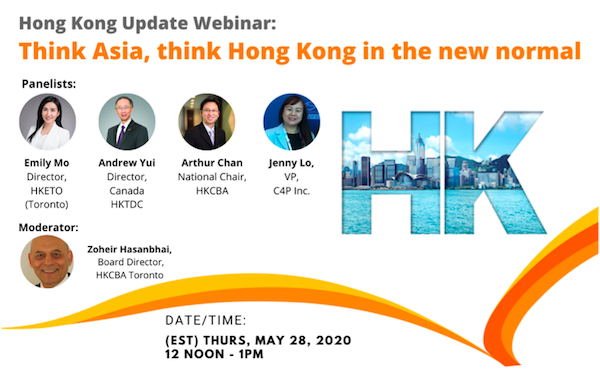 Webinar : "Think Asia, think Hong Kong in the new normal"
Thursday, May 28, 2020 @ 12PM ET
Your plans on business diversification to Asia may have been disrupted by the COVID-19 pandemic, but you do not have to stop your endeavours, especially if you pursue the opportunities through the Hong Kong platform.
This webinar is designed to share insights on the latest development of the Hong Kong platform and advantages for Canadian companies to leverage, the online and offline marketplaces and services in Canada and Hong Kong to facilitate your business diversification efforts, and the experience of how a Canadian entrepreneur turns the challenges into opportunities.
Moderator:
Zoheir Hasanbhai, Board Director, Hong Kong-Canada Business Association (HKCBA) Toronto Section
Panelists:
Emily Mo, Director, Hong Kong Economic and Trade Office (Toronto) (HKETO) – Hong Kong: Your Asian Business Platform in the New Normal
Andrew Yui, Director, Canada, Hong Kong Trade Development Council (HKTDC) – HKTDC O2O Platforms for your Business Diversification to Asia
Arthur Chan, National Chair, Hong Kong-Canada Business Association (HKCBA) – HKCBA Roadmaps for Canadian Companies
Jenny Lo, Vice President, C4P Inc. – How I leverage the Hong Kong Platform in the New Normal
This is a complimentary webinar, but pre-registration is necessary.
Presented by:

Please note that Zoom Video Communications, Inc. is our registration service provider for this Webinar. Zoom Video Communications, Inc. will only collect and use your personal data for the purpose of registering you to attend this Webinar. For details about the privacy policy of Zoom Video Communications, Inc., please view this link: https://zoom.us/docs/en-us/privacy-and-legal.html Also, kindly note that if you do not wish to have your personal data collected by Zoom Video Communications, Inc, you may not be able to register for this Webinar.
For enquiries: Andrew Yui, HKTDC, email: andrew.yui@hktdc.org