Event Details
2019 HKCBA Ottawa 35th Chinese New Year Gala
Celebrate the 2019 Chinese New Year with us to welcome the Year of Pig and enjoy an incredible evening filled with savory Chinese cuisine, traditional Chinese entertainment, raffles, and amazing prizes.
---
Wednesday, 20 Feb 2019
Cocktails @ 17:30
Dinner @19:00
Mandarin Restaurant
290 W Hunt Club Rd, Nepean, ON
- Enjoy this wonderful networking opportunity with around 300 distinguished guests, representing a diverse group of business, governmental and academic officials.
- See why HKCBA is your Super Connector to Hong Kong and throughout Asia.
- By participating you automatically become a Member for 2019 and will enjoy full benefits throughout the year.
With Over $20,000 in Prizes
Grand Prize
1 of 2 Round-Trip International Signature Business Class Tickets
to China or Hong Kong
Valued at $18,000.00
Door Prizes
Deluxe Chateau Montebello / Mercedes – Benz
Weekend Getaway
Valued at $1,500.00
Package Includes:
3 Day Mercedes-Benz C-Class sedan luxury car rental
3 Day / 2 Night stay for two in a luxurious Fairmont Room at Le Chateau Montebello
1 dinner and breakfast for two
2 Round-Trip Business Class Tickets:
Toronto - Ottawa
Valued at $750.00
PLUS

Many More Fabulous Prizes...!
VIP Table Sponsor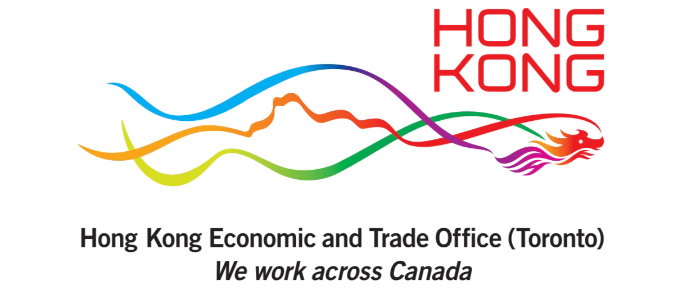 Patron Sponsors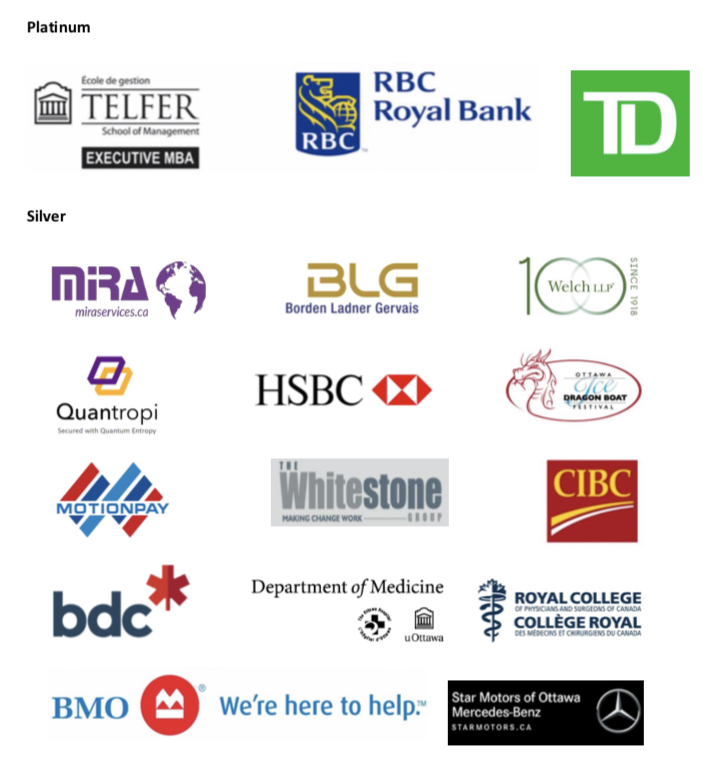 Individual Ticket/Membership
Corporate Tickets/Memberships
Silver Patron (10 tickets): $1,800
Gold Patron (20 tickets): $3,200
Sign Up as an Individual
1. Professional Ticket/Membership - $200.00
One ticket to the HKCBA Ottawa Chinese New Year Gala.
Discounts or complimentary passes to all HKCBA Ottawa events.
Exclusive member discounts from HKCBA partners on trade missions, events, publications, flights and hotel accommodations.
In-depth market intelligence on Hong Kong, Mainland China and other Asian markets and timely business presentations with distinguished speakers.
Support for prospective transactions through our Hong Kong family organizations including HKTDC and Invest Hong Kong.
Local networking opportunities at our various events in Ottawa.
National networking opportunity at the annual National HKCBA Forum in Canada.
Global networking opportunity at the annual Hong Kong Forum in Hong Kong.
To be invited to Annual Member Reception (at the Rideau Club).
2. Student Ticket/Membership - $75.00
All the benefits provided by the Professional membership level, plus
Free admission to all HKCBA Ottawa events.
To be invited to Annual Member Reception (at the Rideau Club).
Sign Up as a Company
1. Silver Patron ( 10 Chinese New Year Gala Tickets ) - $1,800.00
All benefits outlined at the Professional Membership level
Ten (10) HKCBA Ottawa memberships valid for the current membership year
Ten (10) tickets to the HKCBA Ottawa Chinese New Year celebration event
Your corporate logo on all HKCBA Ottawa event programs and website
To be invited to Annual Member Reception (at the Rideau Club)
2. Gold Patron ( 20 Chinese New Year Gala Tickets ) - $3,200.00
All benefits outlined at the Professional Membership level
Twenty (20) HKCBA Ottawa memberships valid for the current membership year
Twenty (20) tickets to the HKCBA Ottawa Chinese New Year celebration event
Your corporate logo on all HKCBA Ottawa event programs and website
Public acknowledgement at all HKCBA Ottawa events
Opportunity to host an event on a current and engaging topic
To be invited to Annual Member Reception (at the Rideau Club)
3. Platinum Patron ( 30 Chinese New Year Gala Tickets) - $4,000.00
All benefits outlined at the Professional Membership level
Thirty (30) HKCBA Ottawa memberships valid for the current membership year
Thirty (30) tickets to the HKCBA Ottawa Chinese New Year celebration event
Your corporate logo on all HKCBA Ottawa event programs and website
Public acknowledgement at all HKCBA Ottawa events
Opportunity to host an event on a current and engaging topic
Distribution of your promotional material at all HKCBA Ottawa events
HKCBA Ottawa Director assigned to you for support throughout the year
To be invited to Annual Member Reception (at the Rideau Club)
For more information contact: hkcbaottawa@hkcba.com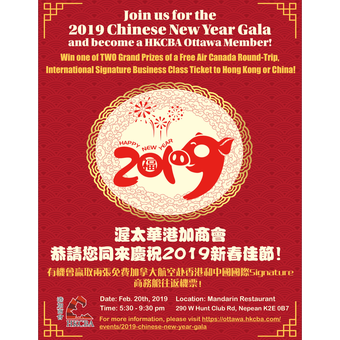 Mandarin Restaurant, 290 W Hunt Club Rd, Nepean, ON K2E 0B7, Canada