Event Details
Postponed

-

HKCBA Spring Gala (Formerly Chinese New Year Gala)
---
---
March 12, 2020
Dear Members and Friends:
Following the pandemic declaration of the COVID-19 outbreak by WHO and the first confirmed case in Ottawa yesterday, the Board of Directors has decided to reschedule HKCBA April 22nd Spring Gala to a later date.
Nothing is more important to us than the health and well-being of our members and community. During this time of uncertainty with the evolving COVID-19 situation, we remain to be a useful resource for you. Please do not hesitate to reach out should you have any questions and concerns.
Best regards,
The Board Directors of HKCBA Ottawa
---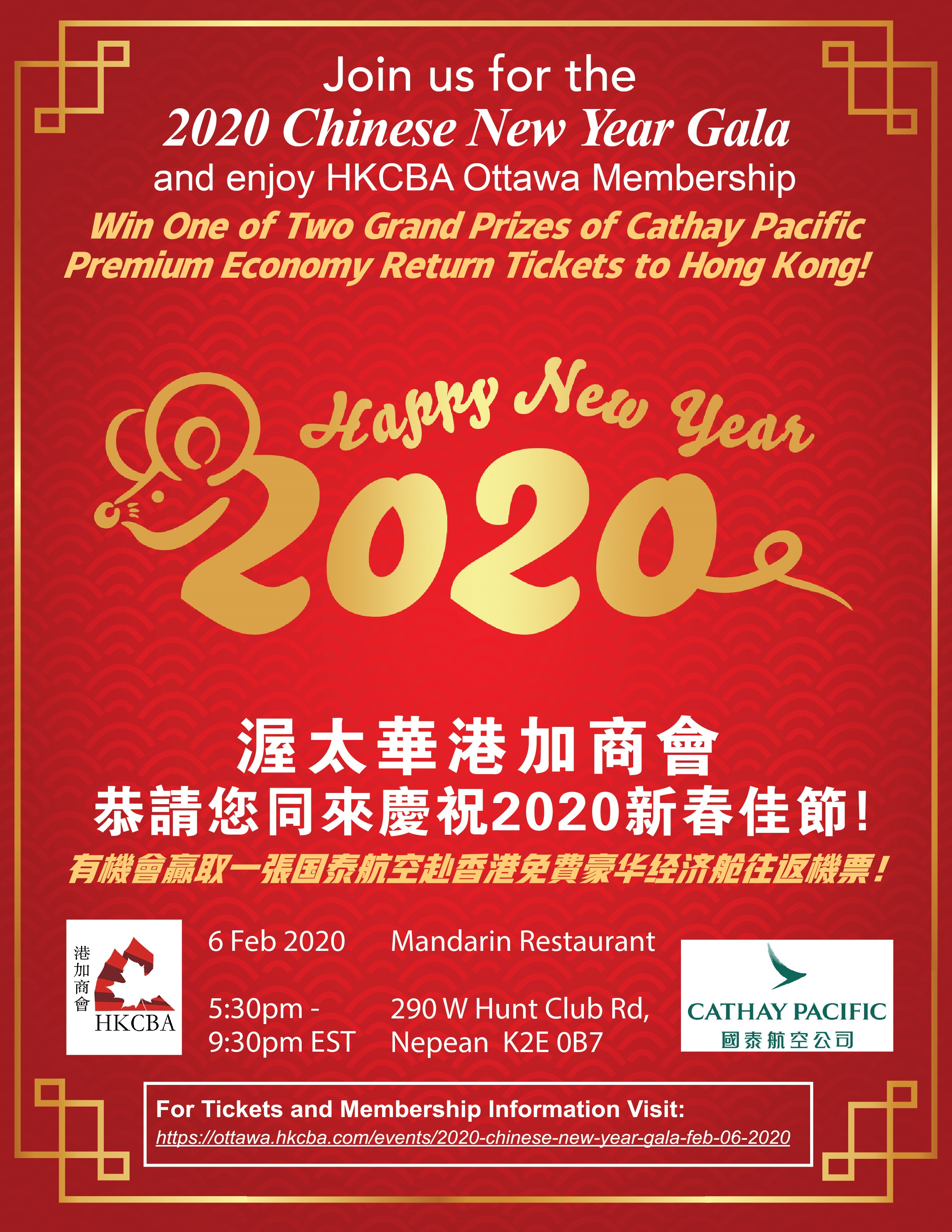 Celebrate the 2020 Spring Gala with us to welcome the Year of Rat and enjoy an incredible evening filled with savory Chinese cuisine, traditional Chinese entertainment, raffles, and amazing prizes.
---
TBD
Cocktails @ 17:30
Dinner @19:00
Mandarin Restaurant
290 W Hunt Club Rd, Nepean, ON
- Enjoy this wonderful networking opportunity with around 300 distinguished guests, representing a diverse group of business, governmental and academic officials.
- See why HKCBA is your Super Connector to Hong Kong and throughout Asia.
- By participating you automatically become a Member for 2020 and will enjoy full benefits throughout the year.
Grand Prize
Win One of Two Grand Prizes of Cathay Pacific Premium Economy Return Tickets to Hong Kong
有机会赢取一张国泰航空赴香港免费豪华经济舱往返机票
Valued at $6,000.00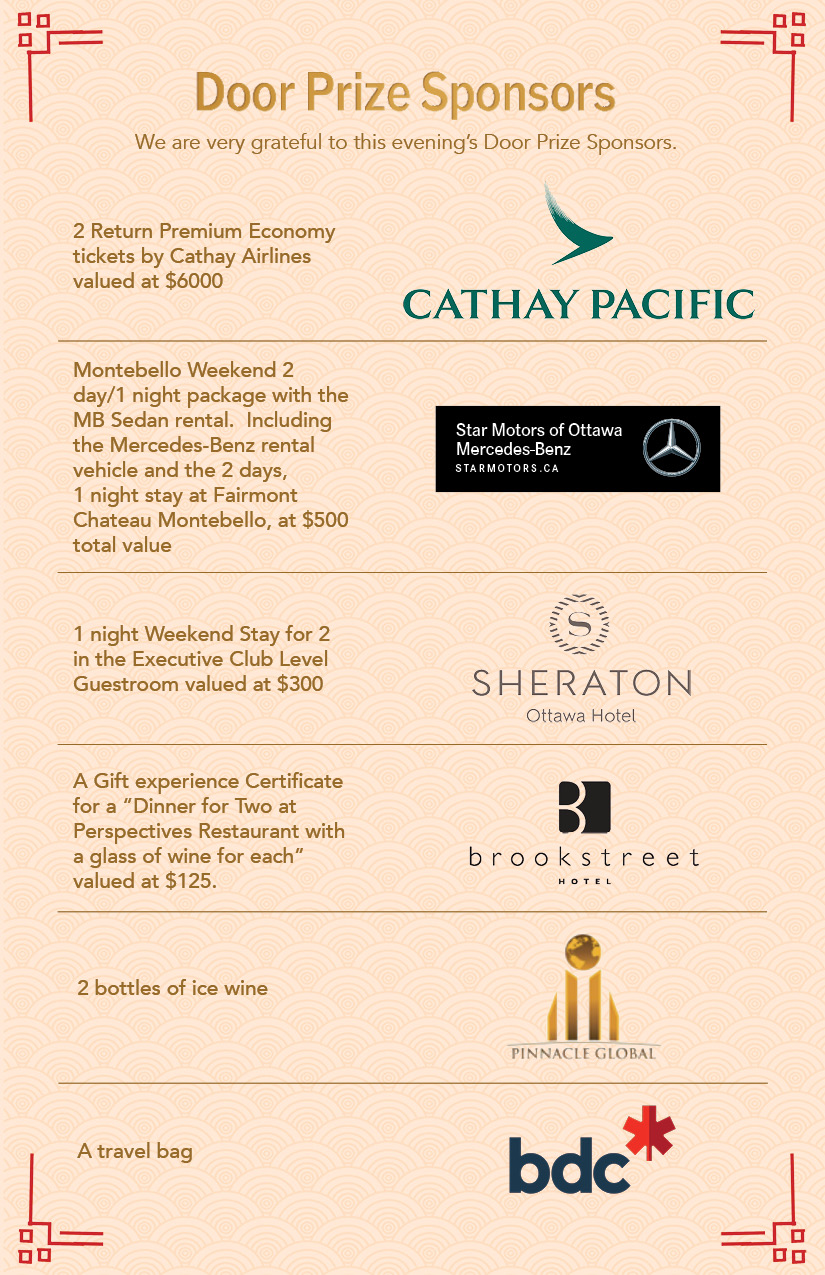 VIP Table Sponsor
---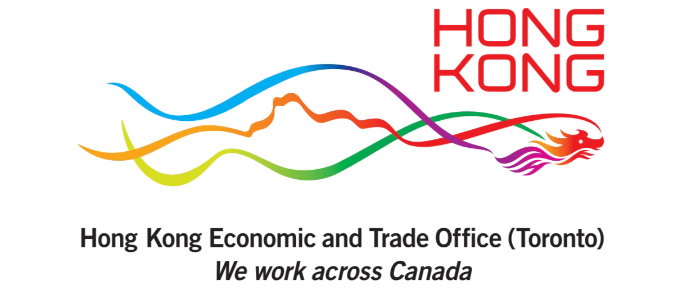 ---
---
---
---
---
---
---
---
---
Patron Sponsors
---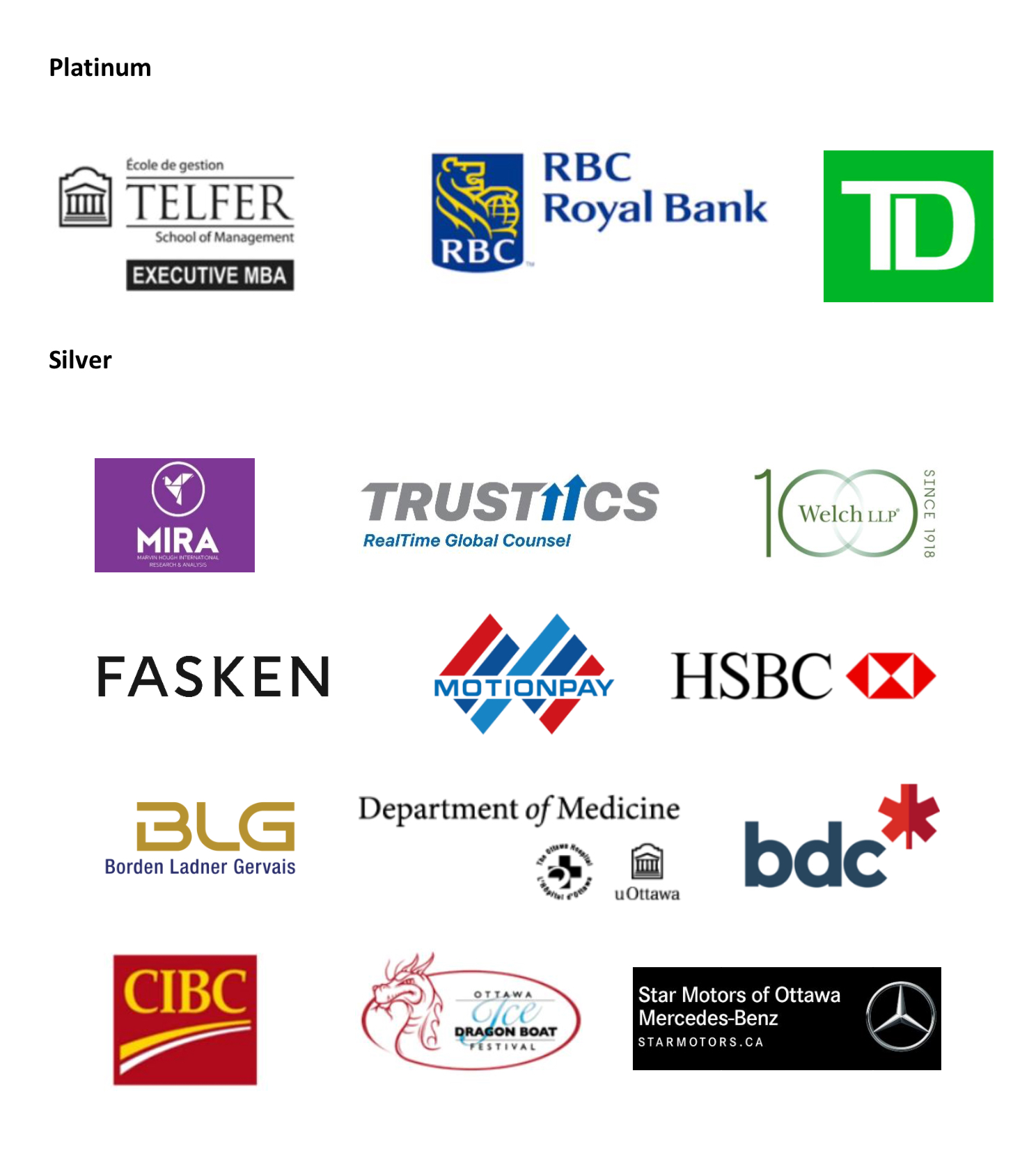 ---
Individual Ticket/Membership
Corporate Tickets/Memberships
Silver Patron (10 tickets): $1,800
Gold Patron (20 tickets): $3,200
Sign Up as an Individual
1. Professional Ticket/Membership - $200.00
One ticket to the HKCBA Ottawa Chinese New Year Gala.
Discounts or complimentary passes to all HKCBA Ottawa events.
Exclusive member discounts from HKCBA partners on trade missions, events, publications, flights and hotel accommodations.
In-depth market intelligence on Hong Kong, Mainland China and other Asian markets and timely business presentations with distinguished speakers.
Support for prospective transactions through our Hong Kong family organizations including HKTDC and Invest Hong Kong.
Local networking opportunities at our various events in Ottawa.
National networking opportunity at the annual National HKCBA Forum in Canada.
Global networking opportunity at the annual Hong Kong Forum in Hong Kong.
To be invited to Annual Member Reception (at the Rideau Club).
2. Student Ticket/Membership - $75.00
All the benefits provided by the Professional membership level, plus
Free admission to all HKCBA Ottawa events.
To be invited to Annual Member Reception (at the Rideau Club).
Sign Up as a Company
1. Silver Patron ( 10 Chinese New Year Gala Tickets ) - $1,800.00
All benefits outlined at the Professional Membership level
Ten (10) HKCBA Ottawa memberships valid for the current membership year
Ten (10) tickets to the HKCBA Ottawa Chinese New Year celebration event
Your corporate logo on all HKCBA Ottawa event programs and website
To be invited to Annual Member Reception (at the Rideau Club)
2. Gold Patron ( 20 Chinese New Year Gala Tickets ) - $3,200.00
All benefits outlined at the Professional Membership level
Twenty (20) HKCBA Ottawa memberships valid for the current membership year
Twenty (20) tickets to the HKCBA Ottawa Chinese New Year celebration event
Your corporate logo on all HKCBA Ottawa event programs and website
Public acknowledgement at all HKCBA Ottawa events
Opportunity to host an event on a current and engaging topic
To be invited to Annual Member Reception (at the Rideau Club)
3. Platinum Patron ( 30 Chinese New Year Gala Tickets) - $4,000.00
All benefits outlined at the Professional Membership level
Thirty (30) HKCBA Ottawa memberships valid for the current membership year
Thirty (30) tickets to the HKCBA Ottawa Chinese New Year celebration event
Your corporate logo on all HKCBA Ottawa event programs and website
Public acknowledgement at all HKCBA Ottawa events
Opportunity to host an event on a current and engaging topic
Distribution of your promotional material at all HKCBA Ottawa events
HKCBA Ottawa Director assigned to you for support throughout the year
To be invited to Annual Member Reception (at the Rideau Club)
For more information contact: hkcbaottawa@hkcba.com